CrossFit is a high intensity brand of functional fitness.  It comprises elements of weightlifting, gymnastics, athletics and fitness.  Training for CrossFit will incorporate a mix of different training methods to create a very high intensity strength and conditioning session.  It has gained in popularity to become one of the world's biggest fitness phenomenons.  I have several friends that compete at a high level in CF and a close friend of mine owns an excellent 'Box' in the west country .  So why was I so against it all these years?  Briefly put, the high intensity training seems to cause a high incidence of injury amongst people not properly conditioned to cope with it.  The popular Workout Of the Day appears to have no regard for the principles of strength and conditioning at first class and I didn't like it.
The next generation in Strength and Conditioning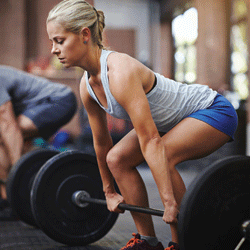 Why the change of heart in recent months?   On a family night in when my family wanted to watch 'Fittest on Earth', a documentary about the CrossFit Games.  Held in the USA the CF Games see's the 40 fittest men and women from all over the world complete several days of the most gruelling workouts you've ever seen.  I was hooked within 5 minutes.  These athletes perform incredible feats across a wide range of exercise disciplines.  I was so impressed that it made me think about my own strength and conditioning programme.
As a qualified strength and conditioning coach that has worked with elite athletes, I like to think that I've done a bit in my time!  My own programme had no real focus as opposed to these CF athletes and elite sportspeople.  I decided it was time to introduce variety in the form of CF!  Friends of mine that are experienced in CF showed me how to perform 'cool' exercises such as Handstand Walks and Muscle Ups.  They also introduced Strongman activities and load carrying into my programme.  I now have a programme that has variety but has not lost the traditional principles of good strength and conditioning.
A lifelong learning curve
I am not a compete CF convert just yet.  However, I did complete my first WOD the other day!  Programmes need focus to develop athletes who are balanced.  My fitness training was too narrow, creating movement deficiencies and inefficiencies, which have now been addressed by my CF buddies!
This article was written by personal fitness trainer Nathan Kelly – find on Google+