You can take the child out of the fun, but you can't take the fun out of the child!  When it comes to effective youth conditioning FUN is the key ingredient.  This is true of coaching all young athletes regardless of their performance level.  Successful coaches develop a number of strategies that ensure athletes enjoy training.  Coaching fitness to young athletes is no different.
Taking Care of Business in Youth Conditioning
But what about getting the work done?  Surely it can't all be about having a laugh and smiling your way through training?  This is correct, particularly when working with talented young performers.  Strength and conditioning is now a key part of elite youth sports performance, such as Premier League Football Academies.  Similarly, parents of talented young athletes will want to see progress from specialist fitness coaching.  It is important to realise that enjoyment and fun are not the same as having a laugh.  The youth conditioning coach does not need to be a comedian.  Fun and enjoyment come from a number of sources, such as teamwork, problem solving, understanding, and achieving.  Young sports performers will often gain immense satisfaction from mastering techniques or working hard.
The bottom line for any youth coach is that young athletes will vote with their feet.  Failure to consider the fun element will ultimately mean that no learning takes place.
Making Youth Conditioning Fun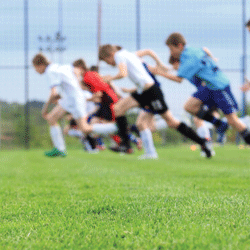 A coaching environment that promotes the individual child is important.  When it comes to physical performance, young athletes will be at different stages of development and therefore performance.   Each athlete needs to be coached based upon their specific needs.  Youth conditioning coaches must consider physical, mental and emotional differences between athletes.   Champion each athlete.
Young athletes appreciate boundaries.  Setting clear ground rules and expectations for behaviour ensures that fitness training sessions run smoothly.  We encourage high performance groups to help build the training rules.
Challenging athletes to improve through effective target setting adds real value to youth conditioning sessions.  Providing a mix of short term, drill specific goals as well as session aims will keep athletes on track.   Achieving new standards is a great source of enjoyment for children.
The ultimate contest for the young athlete will be with themselves.  However, many young performers like competition.  Relays, skill challenges and races provide the coach with obvious competitive outlets.  Creative fitness coaches can also come up with contests that relate to effort, listening and attention to detail too.
In a nutshell, young athletes have a way of letting you know if the youth conditioning sessions are not hitting the mark.  Quite often they vote with their feet.  Parents and sports coaches will want to see youth conditioning sessions improve sports performance.  The strength and conditioning coach must be creative when designing youth fitness sessions.  NK Fitness have built their brand of youth training using experience gained over many years.  If you would like to discuss how we could help your son / daughter improve their fitness for sport then please view our website or contact us here.