As a youth sports coach have you ever wondered what it's like at the elite level?  Elite sports coaching must be so much more demanding than grassroots?  And what about the conditioning side of things?  Conditioning coaches in professional sport have to be on the ball at all times and use the latest techniques and equipment?  I consider myself fortunate in having experienced sports coaching as well as strength and conditioning at both elite and grass roots level.  So what is the difference in youth sports coaching styles?
Next Kid Up.  Coaching elite youth sport
The ink on my degree was still wet when I was awarded the job title of National Physiologist for the England Men's Hockey Team.  I got lucky.  Many of the players were older than me and had 'been around the block'.  Sports science support wasn't new to elite field hockey.  We had plenty of basic normative data to work from when it came to establishing fitness test standards.   There was time to establish fitness support for the junior age groups too, from U16 through to U21's.  Fitness isn't the only factor that selection is based upon, but it is included.  National Squad selection follows a controlled process of Darwinism – Survival of the fittest!   If an athlete doesn't meet the established norm then they have to demonstrate significant merit in other aspects of performance to be included.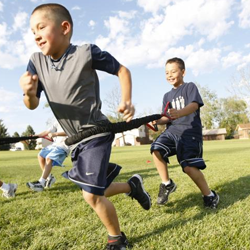 In some ways this makes youth sports coaching and the conditioning coaches job simple.  The fitness standards and selection process are set.  By the time I got to work with the players, only the 'fittest' tend to be around.  That side of the role is easy.  The challenge with the elite junior squads is to get the most out of each individual at the tournaments.  For the younger age groups this is likely to only be one tournament in the calendar.  Just one chance to shine.  Another factor that makes youth sports coaching simpler is the fact they are all highly motivated to be there.  Even if they do not relish fitness training, athletes appreciate that it is necessary.  In short they stick to the programme.
What you see is what you get.  Youth sports coaching at the grass roots level
At lower levels of performance the youth sports coach and fitness trainer is presented with different challenges.  You have to work with the squad that you have.  In reality, there is not a conveyer belt of athletes queuing to to get in the squad.  Numbers are often limited at training, which has implications for your practice.  The youth sports coach will have a vast range of abilities across their squad.  Programming therefore has to consider the development of a non homogenous crop of athletes.  For me this is where conditioning coaches really earn their stripes.  Getting the best from each youth athlete requires outstanding knowledge and a broad range of strategies to motivate each child.  They don't have to be there, they choose to be there – so you have to give them something worth coming for.