We receive plenty of requests to work with young athletes.  These are often talented young performers in a given sport.  Each sport has performance development system for talented young athletes.  However, not every enquiry that we receive is to work with a young sportsperson.   Several parents contact us for help in developing physical literacy for their child or they simply want them to be more active.
What is Physical Literacy?
Developing physical literacy sounds great doesn't it?  But what does it mean?  In short, we are talking about developing a wide physical skill set in children.  There are plenty of models that describe the various categories of movement and physical skills to develop in young athletes.  Basically, it boils down to different ways of travelling such as running and jumping.  Physical literacy also encompasses catching and throwing using different objects and implements.  For example, throwing a cricket ball is very different from striking a ball with a tennis racket. You will hear coaches refer to these as the ABC's of physical performance.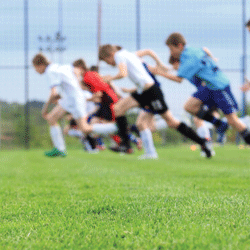 You don't have to be a high performing athlete to have good physical literacy.  However, it is difficult to be a high performing young athlete without it.  Building movement efficiency and physical competence in young people has many potential benefits and these stretch beyond the sports arena.  A positive body image, physical confidence and developing a love for regular physical activity are all possible positive outcomes.   Forming good health and fitness habits when we are young may help keep us to stay active when we are older.
Developing Physical Literacy
So how can we improve a child's physical skill set?  If working with a young athlete in a strength and conditioning capacity, then the use of movement drills is warranted.  Large parts of these sessions may look highly organised, with sets and reps prescribed.  Despite a clear order to the session, fun must still be factored into any young persons workout.  Training for young athletes can be highly productive and structured but still fun.  When it comes to our other young clients we go with the flow!  To the casual observer, a session is completely unstructured and chaotic.  However, there will be no shortage of physical activity, variety and fun.  As experienced youth strength and conditioning coaches in Fulham we don't stifle creativity in our young athletes.
Creative and positive coaching allows us to develop fun games and challenges at the same time as developing physical literacy.  Encourage your young athletes to experiment with different techniques.  For the coach it's a physical skill, movement and fitness session.  To the child it is play time.