Post workout snack: What do you eat after your workout?
Post workout you will feel hungry and will want to nourish your body with the right nutrition. The usual thing to do is to have a protein shake or protein bar. This will give you the protein that your body needs. However this gets boring over time so you will want to mix it up a bit to keep it interesting.
The foods that I eat will want to be tasty and fulfilling after a workout. As a personal trainer (in Windsor) the snacks include the following:
2 different sources of protein (to keep it interesting)
A fast and slow release carbohydrate (1 gets absorbed quickly and one slowly to replenish glycogen)
Vegetable or fruit source
Seasoning to make the snack taste better and it adds more vitamins & minerals.
I'm going to share two snacks I make on a regular basis. 1 will be savoury and the other sweet. These snacks take a little time to make on your food preparation day. I make mine on a Sunday and I then have them for the rest of the week or longer depending on how many I make.
Post workout Snack Number 1: Sweet potato and chickpea burgers
Ingredients: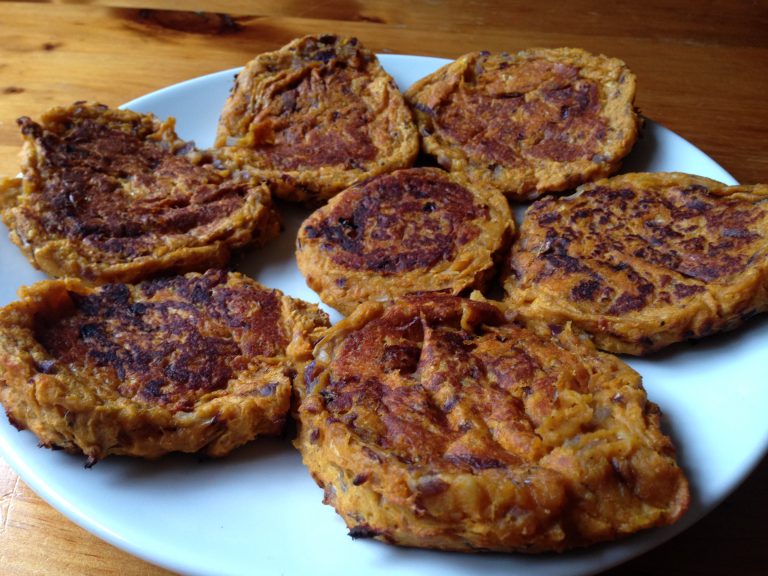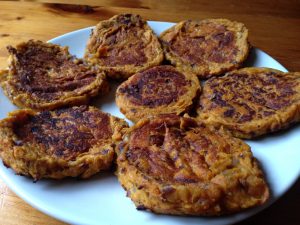 4 large – medium sweet potatoes
2 cans of chickpea
2 red onio
plain flour
curry powder or other seasoning
garlic salt
Method:
Wash and microwave the sweet potatoes for 10 minutes. After microwaved place them in the oven for 10 minutes to soften more. Finely cut the onions up and place it in a bowl. Wash the chickpeas and place them with the onion. Once the sweet potatoes are done cut them in half and leave to cool for 3 minutes. Then Add the sweet potatoes, curry powder (own preference), a pinch on garlic salt to the mixture. Mash the mixture together until smooth and then add flour to thicken the mixture.
Heat up a frying pan and make the mixture into friable portions. Fry the portions until the outside of the burger is sealed. Then put them in the over  at 150 degrees for an extra 15 minutes. Leave on the side to cool until they are ready to be frozen or eat them whilst they are hot.
If frozen:
If you freeze your burgers to be used in the week, heat up the oven to 150 degrees and leave them in the over for 10 minutes.
Post workout Snack number 2: Banana and peanut butter pancake
Ingredients: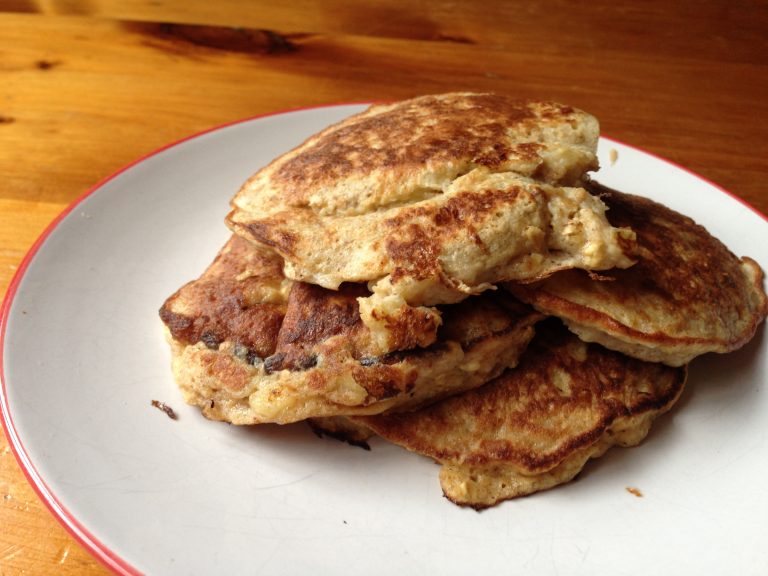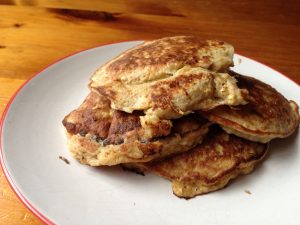 1 egg
half a banan
tsp peanut butter
1 tbsp porridge oats
Cinnamon and nutmeg powder
Method:
Place half the banana in a bowl and mash until smooth. Add the egg, peanut butter, porridge oats and cinnamon & nutmeg powder (own preference). Mix the mixture together until all the lumps are gone.
Heat a pan up to cook the pancake. Pour the mixture in the pan and fry until one side is cooked then flip over to cook the other side.
If frozen:
If you freeze your pancakes to be used in the week, heat up the oven to 150 degrees and leave them in the over for 10 minutes.
Last note:
I usually have two sweet potato burgers with 2 fried eggs or a can of tuna. You can add other sources of protein to this meal.
I also eat two pancakes as a snack, on the side of the plate you can add some berries and drizzle some maple syrup over the top. Go easy though.